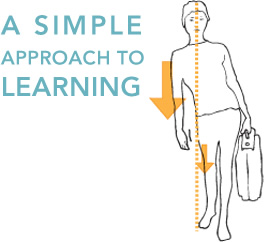 Change Your Habits and Learn How to Avoid PAIN
The Alexander Technique provides practical self-help so you can improve your well-being – now and in the future.
Back pain, stiff neck, shoulder tension. They're not just the result of poor posture. They're the result of poor habits. Unconscious habits. Learn the art of the Alexander Technique and you'll learn to avoid pain. You'll rediscover good habits. Habits that you can incorporate into every aspect of your life.
Posture Plus provides a simple, clear approach to learning the Alexander Technique. Posture Plus is about how you breathe, move and react. Posture Plus is all about you.
It's something you learn to do for yourself.
It isn't treatment.

It isn't passive.

It isn't exercise, but you bring it to everything you do - including exercise.